Price starting at
US$125,000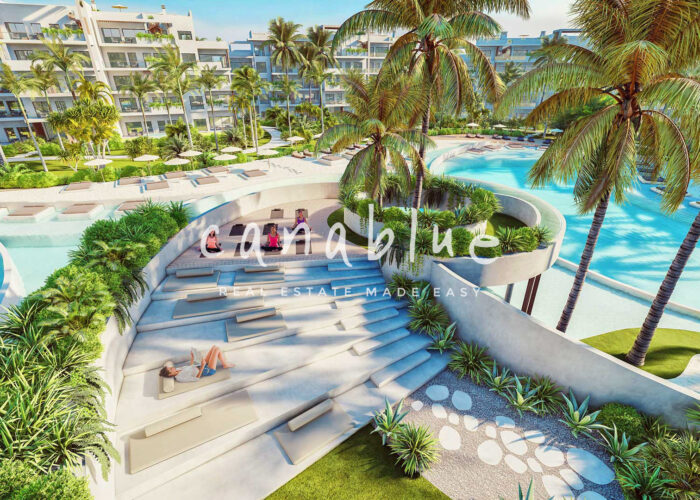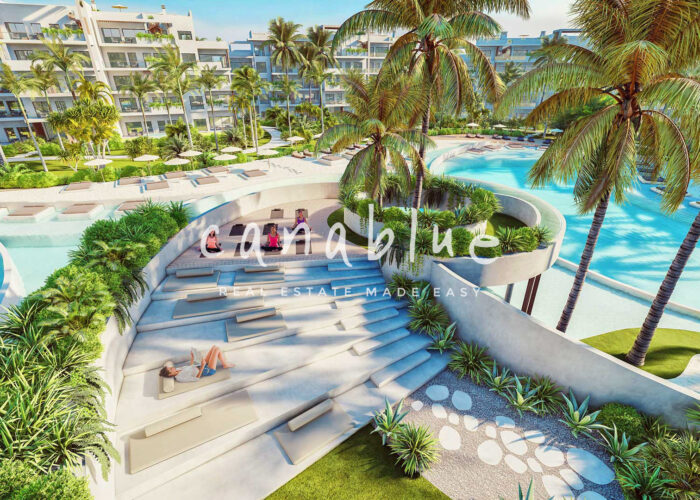 Description
The Seed is a new residential complex of 470 units distributed across 12 five-story condos, which will
offer its residents a healthy lifestyle with spaces for relaxation, comfort, and well-being.
The grounds will serve as a magical place to share quality time.
Fruit trees and organic orchards provide an oasis of health, vegetation, and beauty.The design of each area pays close attention to nature and its effects on health, well-being and balance.
Landscaping is inspired by a tropical influence intending to add contrast to the surroundings.
The architecture creates spaces where nature comes to live.
Located in a newly developed area near downtown Punta Cana, just 10 minutes from Punta Cana's
International Airport and 8 minutes from the Caribbean's most beautiful turquoise beaches.
It's the ideal place to live, invest, or vacation, definitely, an unbeatable location!
The designs bow to the surrounding natural setting with elegant minimalist lines that provide a modern ambiance, integrating seamlessly with its sustainable gardens.
Unique 1-, 2- and 3-bedrooms apartments with a contemporary and functional design, expressly planned
to enjoy the Caribbean in great architectural quality.
All apartments were designed in such a way as tomake the most out of them.
The versatility of the spaces will allow the rooms to be organized in the way that best suits each resident's needs.
The project was planned based on the "Rental Unit Concept" to maximize financial benefits.
AMENITIES:
Tropical gardens that surround the pool area within the buildings will serve as a pleasant oasis to stroll and exercise outdoors.
The greenery and gardens aim to offer a fresh, organic, and natural lifestyle, providing balance and
harmony.
This facility will feature different areas dedicated to
leisure and relaxation:
•Bar
•Gym
•Spa with sauna and Turkish bath
•Coworking area
We understand that planting is giving life to our lives. We will cultivate health by organizing workshops on harvesting vegetables at our organic vegetable and herbs garden.
Inspired by the geological formation of a cenote, a natural well that is fed by the filtration of rain, the Cenote building emerges.
Its shape allows the recreation of a roof-covered restaurant and pool bar, as well as a covered pool with refreshing temperatures characteristic of a cenote.
Its accessible rooftop offers continuity to the organic and botanical landscapes that extend throughout the complex.
The area will feature:
• Garden viewpoint
• Yoga Area
• Restaurant
• Cocktail Bar
• Children's Area
Close By:
THE SEED  is located within the Bávaro, Punta Cana area in a really great location which makes it incredibly easy to access the main boulevard, which connects all Bavaro-Punta Cana. This means it is located only a 15 minute drive to the Punta Cana International Airport, and a 2 minute drive to Downtown Punta Cana and Plaza San Juan. Plaza San Juan and Downtown Punta Cana are basically the must-go-to places in the area. Shops and malls filled with restaurants, bars, Coco Bongo, Rad Park and many more!
The El Cortecito zone, known for its great popularity and touristic vibes is only a 10 minute drive.
Agent
Born and raised in Santo Domingo, Dominican Republic, she started her career in real estate in Santo Domingo 10 years ago. Graduated from law school in the year 2010 from the Pontificia Universidad Catolica Madre y Maestra and once then, seeking greater business opportunities, Punta Cana called her attention in 2012.
Punta Cana has been her home for the past 10 years working closely with foreign and domestic investors in the area. She is a Real Estate professional with a demonstrated history of working in the real estate and legal industry. She is skilled in Negotiation, Legal Affairs, Customer Acquisition, Customer Relationship Management, and Sales. Pamela has worked side by side with the top legal firms and real estate companies in the country, and created Canablue Real Estate in Punta Cana in 2017.
Partnering with her team, Pamela prides in being able to offer her clients a full cycle service range including real estate promotions and sales, real estate legal assistance, general legal assistance, property management and everything that canablue has to offer in terms of construction, renovations and furnishing options.
Pamela specializes in pre-construction real estate development, re-sales and legal matters in real estate transactions.